Swimming Pool Construction Process
Swimming Pool Construction Process:




Step 1:




We will layout, measure and mark off the pool shape in your back yard. The real fun begins with the excavation. This giant mess in your backyard may look scary now, but in no time at all, it will be a new source of enjoyment and entertainment for your family!
Step 2: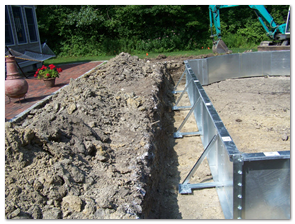 Setting the wall panels and braces. The pool really starts to take shape here.
Step 3:

Installation of plumbing and electrical equipment. This includes piping, pumps, lines for special lighting, water features, etc. If you aren't adding a lot of special features now, but think you might want to upgrade your pool in the future, let us know. It's usually much easier to add extra plumbing and electrical capacity when the pool is first built than it is to go back and add it later.
Step 4:

Pouring of the concrete bond beam and pool floor. The bond beam surrounds the outside of the pool walls and the braces, and holds everything in place, nice and tight. The pool floor is poured precisely so that the liner will fit like a glove.
Step 5: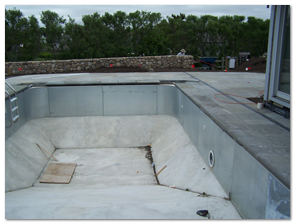 Backfilling. Dirt is moved back around the pool, covering the braces, bond beam and plumbing, and creating the base for your decking.
Step 6: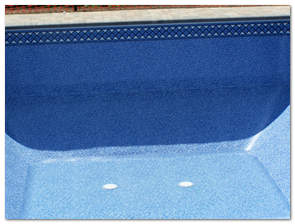 Installation of vinyl liner and coping. The liner snaps into a special track along the coping and then a vacuum sucks out excess air between the pool wall and liner, ensuring a snug fit.
Step 7: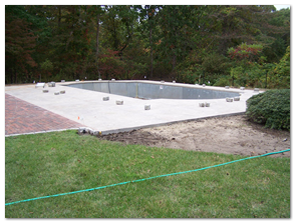 Pouring of the concrete deck. The options here are endless: pavers, stamped concrete, brick and more. Beneath the surface, the Fort Wayne Pools bracing system works to support the decking and keep it from shifting or cracking.
Step 8: Pool Construction Complete!

The last step is to finish the area with landscaping, patio furniture, lighting, fencing and other accessories. This is where your dream backyard really comes to life. Enjoy your pool!