Pool Remodeling
If your swimming pool is starting to look old and outdated or has fallen into disrepair, you do not have to just live with it. Breathing new life into your backyard pool can be as simple as adding a new design feature or as complex as changing the shape or depth of your pool. Your options are only as limited as your imagination. Consider these swimming pool remodeling ideas to make your pool fun and functional once again.
Add A Spa

Give yourself the gift of therapeutic backyard hydrotherapy: Choose from a wide variety of acrylic spas that fit your needs.
Waterline Tile

A tremendous variety of colors and fashionable stone-looking ceramic tiles are available.
Add A Sun Shelf

Typically 6 inches under water, a sun shelf is the perfect place for the kids to play or mom to lounge on a beach chair.
Add Swim-up Seating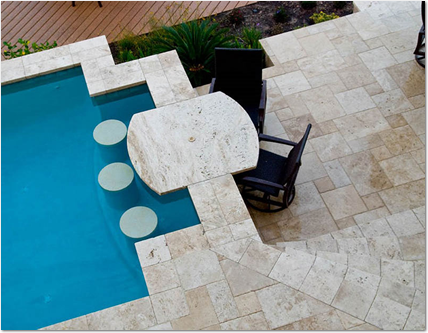 Seating areas are an important consideration for pools. In addition to the popular bench type seating, stools are also available. Stools are frequently used in conjunction with a swim-up bar to create the ultimate backyard resort.
Add A Natural Rock Waterfall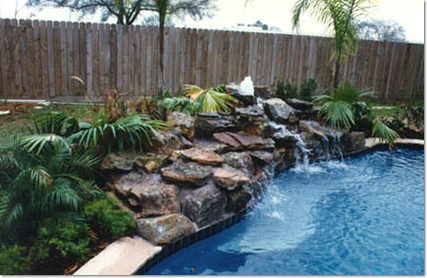 A natural rock waterfall is a dramatic and inviting addition to any swimming pool. The relaxing sound of flowing water will make you want to vacation in your backyard every day.
Add A Sculpted Rock Waterfall Grotto and Slide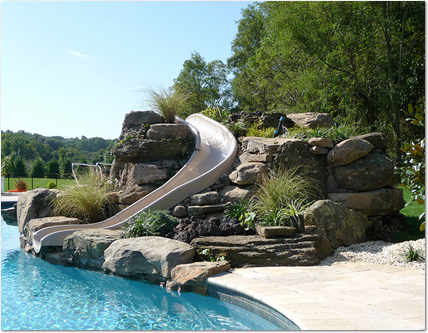 A sculpted rock waterfall grotto and slide combination is the perfect way to bring fun and a "wow" factor to any swimming pool.
Stacked Stone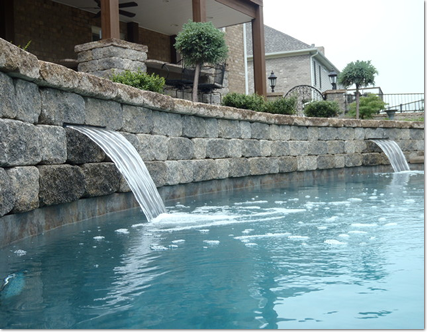 Stacked stone is very popular and can be used in a variety of ways both as a water feature and as detailing.
Wok Pots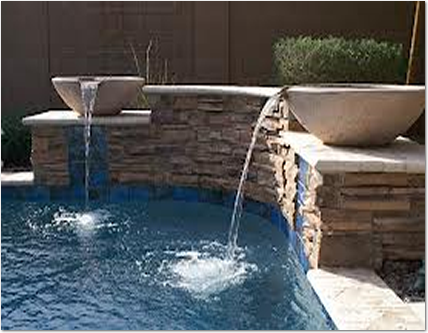 Pre-cast wok pots are available in a variety of colors, shapes and sizes.
Scuppers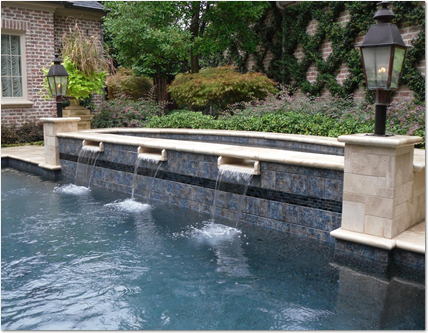 Add a raised area with spouts known as "scuppers" that pour water into the pool. Scuppers are available in a wide range of styles and finishes.
Lighting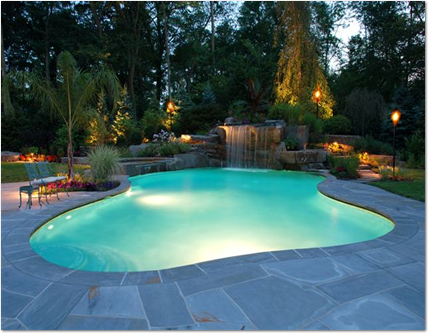 Pools are beautiful at night. Options include remote-controlled, color changing L.E.D as well as fiber optic lighting.
Telescopic Fountains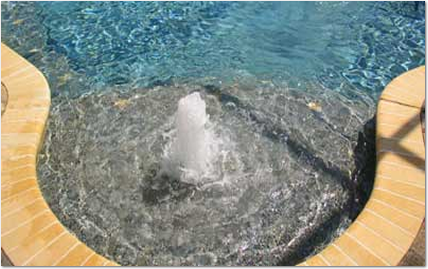 These fountains retract flush into the swimming pool floor when not in use. Use in groupings of three or five for a dramatic effect.
Deck Jets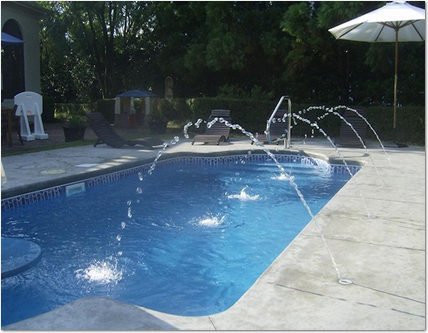 Flush mounted jets that stream water into the swimming pool create a classic look.
Mosaic Tile Inserts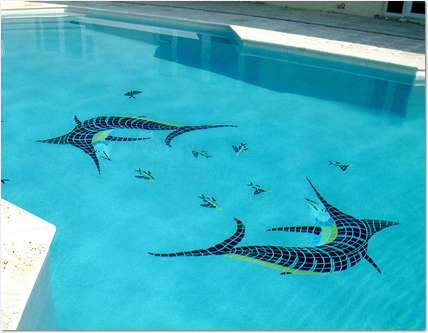 Add a custom look to the floor or steps of your swimming pool with unique mosaic tiles, available in a variety of shapes and sizes, including the very popular turtles, marlins and dolphins.
Decking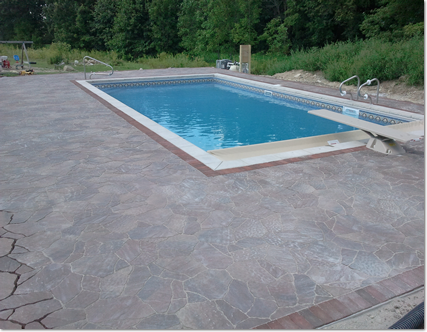 Consider the living spaces you want around your pool and ask your pool designer to come up with the best layout and materials for your lifestyle.
Shasta Deck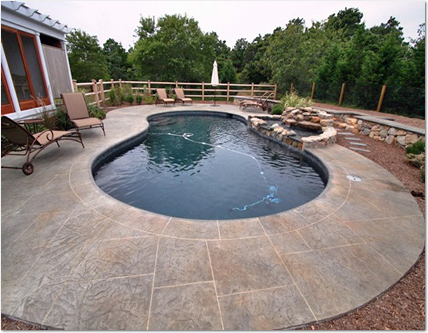 Shasta Deck comes in 12 colors and a variety of unique textures and patterns to give you the look of expensive, natural materials such as flagstone or tile at a fraction of the cost.
Automation Systems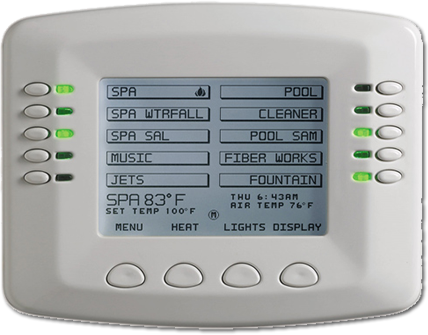 With our automated control systems, scheduling and operating filtration cycles, heating, pool and landscape lighting, sanitizing, waterfalls and fountains all will be blissfully automatic for your customers.
Salt Systems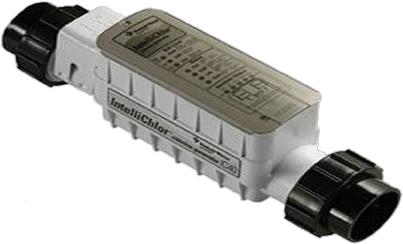 Fully automatic salt water chlorination system produces chlorine by converting salt (sodium chloride) into chlorine. Salt systems produce water that is comfortable and gentle on the eyes, skin, and hair.
In-Floor Cleaning Systems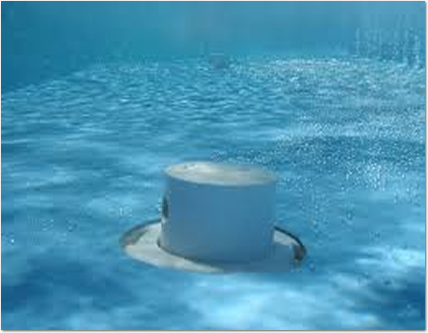 Add an automatic cleaning system and spend more time enjoying your pool.
Filters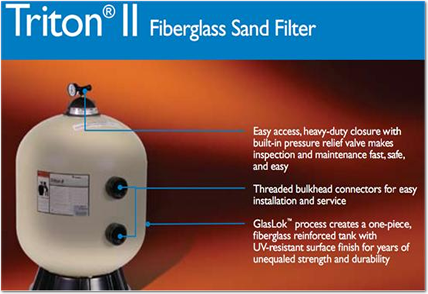 Add an exclusive high-capacity sand filter and forget cleaning and buying expensive cartridges.